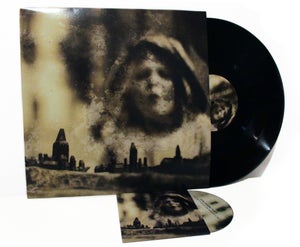 €

15.00 - On Sale
Our Ceasing Voice's 2009 EP Steadied Stars In The Morphium Sky finally available on 180g heavy-weight vinyl. Includes Bonus CD.
Bonus CD separately available too.
Remastered for vinyl.
100 ex grey vinyl + cd SOLD OUT!
200 ex. black vinyl + cd
Tracklist vinyl:
Side a:
The Inevitable Fall
Of Lives Once Lost
Side b:
As The Horizon's On Fire
Dazzled Eyes Are Shut
His Halo in Pieces
His Halo in Pieces is a brand new song taken from the bands' 2012-2013 recording sessions.
Tracklist CD:
The Inevitable Fall
Of Lives Once Lost
As The Horizon's On Fire
Dazzled Eyes Are Shut
Highway Lights
Battlefield Memorial
The Inevitable Fall (alt. drums)
Dazzled Eyes Are Shut (acoustic)
His Halo in Pieces