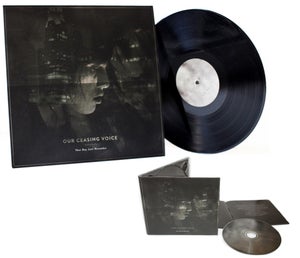 €

13.00 - On Sale
The sophomore album "That Day Last November". released Jan. 18th.
Incorporating guest appearances by American singer-songwriter Matthew Ryan, as well as the typical, deep and almost dying vocals of Reinhard Obermeir, lead to tighter song structures while maintaining Our Ceasing Voices full cinematic strengths. Thus, their new album will make sure sure you wont be able to escape your memory. Of everything that happened on that day last November.
Tracklist:
01. Afterglow
02. Until Your Chest Explodes
03. One Of These Nights
04. What Used To Be A Battle Song
05. The Anniversary
06. The City That Once Had A Name
07. Jaded
08. Like Wildfire
Black Vinyl limited to 400.
Clear Vinyl limited to 100.
CD Version comes in Digipack with 8 page booklet.