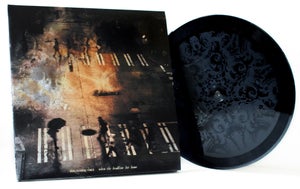 €

18.00 - On Sale
CD or Vinyl Version of the long awaited debut-album by Austrian post-rock-quartett Our Ceasing Voice 'When The Headline Hit Home'
Based on the upcoming novel by Sebastian Obermeir, Our Ceasing Voice's new 2011 album pursues the concept established with their 2009 EP Steadied Stars In The Morphium Sky, while the development to a darker, more dynamic sound is clearly noticeable. Beautiful and saddening at the same time, the Austrians draw attention to fragility, passionately making one's flesh creep and thereby portraying a dramatic story full of yearning and desperation.
How it will end, however, lies only in your hands.
Tracklist:
1. passenger killed in hit and run
2. without even breathing
3. highway lights
4. the only ones dead (are those who are forgotten)
5. hopes of yore
6. summer's orange haze
7. polaroids and chinese whispers
8. within the nick of time
Extras:
VINYL
2 LP 180g Vinyl in Heavy Gatefold Cover, D-Side Etching + Bonus track, Lyric sheet, A3 poster. Clear version includes brown screen-printed Vinyl bag.
Black Version limited to 350.
Clear Version limited to 150. SOLD OUT.
CD
Comes in 4side papersleeve, wrapped in A4 poster.
Detailed pictures of the artwork can be found here:
Artwork Pictures